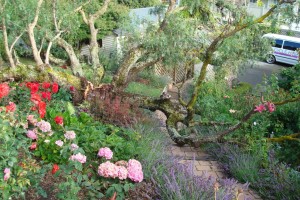 A Californian Peppertree graces our garden.  It is somewhere in the vacinity of 80 to 100 years of age.  Two years ago it got peppertree wilt and we were told it was the beginning of the end. 
 After doing some research, we were given advice on how to organicly enhance its chances of survival.  We have meticulously followed this advice and this summer it has been showing positive signs of regaining its beauty.  Much to the delight of our  grandsons (who visited at Christmas and loved climbing all through it) and  ourselves. However on Sunday night we had a southerly storm with torrential rain. Monday morning dawned and the weather had improved.  The sun was shining it was a cracker morning so I decided to go for an early bike ride.  When I got home Robert had put a sign up by the entrance pagola for visitors to use the  alternative pathway.  Surprised by this I went to investigate and found that half of our beautiful Californian Peppertree had collapsed across the main pathway up to the house.  I hadn't even noticed when I left for my ride,I was devastated.  After all the work and maintenance we now have only half a peppertree.  We have been clearing the mess that it made in the garden.  We hope to be able to save the remaining portion of the tree and have put in some supports for the lower branches and have sourced another big tree to plant in beside the remaining part so that if it eventually does die then the new tree will at least be established.
I suppose the upside is that we now have some free firewood for the fire in winter, so if you visit then it will nice and cosy.