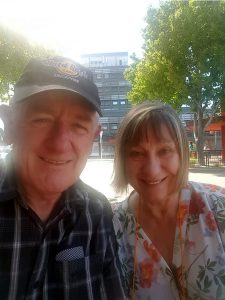 Mark is a retired Police Officer having served in Christchurch, Nelson and overseas.
On his retirement we owned and operated Alpine Garden Motel in Hanmer Springs, North Canterbury. We have returned to the top of the South Island after 8 years away.
Our blended family consists of 3 adult sons and 1 daughter, 1 gorgeous granddaughter and 2 lovely grandsons who are scattered from the Gili Islands in Indonesia, Margaret River WA, Ruakaka and Nelson.
The other members of our family and closer to home, are our 16 year old Scottish Fold cat Lauchie who loves lots of attention and Lucy our 7 year old Silver tabby Persian who is little shy with unknown humans.
We feel privileged to take ownership of the Olde Mill House which was established nine years ago by the previous owners Robert and Diane Sutton. They have renovated and landscaped the property to provide comfortable, quality accommodation in the peaceful surroundings of a delightful garden setting.
In the past we have travelled in New Zealand, Australia, the Cook Islands, Samoa, Fiji and Singapore, and more recently in the UK, Hungary, Slovakia, Austria, Germany and the Gili Islands.
We enjoy meeting fellow travellers from both New Zealand and around the World, and look forward to discovering all the little gems in our new "hometown".
We look forward to the pleasure of your company, please do not hesitate to contact us with any queries.